Posted by Artem Russakovskii on June 19th, 2006 in
Sports
Ukraine recovers and dominates SA 4-0 in the 2nd match of Group H after getting killed by Spain 0-4 a couple of days ago. Being a Ukrainian myself, I'm very proud for the team. GO UKRAINE!!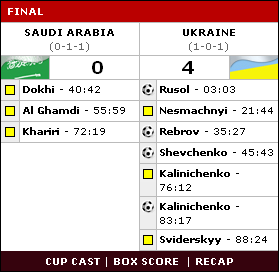 ● ● ●
Artem Russakovskii is a San Francisco programmer and blogger. Follow Artem on Twitter (
@ArtemR
) or
subscribe to the RSS feed
.
In the meantime, if you found this article useful, feel free to buy me a cup of coffee below.