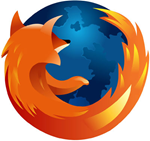 When I visited Mozilla's offices about 6 months ago, I saw a mobile testing station which included about 20-30 different phones lounging around, with their chargers plugged in. I knew something serious was coming soon. There were rumors about Firefox for Mobile for a while but nothing to really show for it. That was then…
Today, however, we know a lot more. Firefox for Mobile, codenamed Fennec, is coming next month (see More Info below) and looks very promising.
Here is a recent video of the Firefox's mobile and design teams discussing and showing the features of Mobile Firefox:
Feature Highlights
For the busy folks, here are the highlights from the video:
Mobile Firefox uses as much screen real estate as possible to show the page
swipe screen left to see the open tab list
swipe right to see navigation buttons
awesome bar knows what you're looking for as you start typing, just like in your desktop Firefox
sync using Mozilla Weave – seamless sync desktop and mobile, including history and open tabs
location based browsing – allows sharing your location with websites automatically (obviously, with your approval only – excellent!)
security and privacy are the #1 priority
mobile add-ons – they're trying to create the same development platform that the desktop Firefox already uses. Yup, that means AdBlock is coming.
HTML 5 support
And some more from Mozilla and GigaOM's interview with Mozilla CEO John Lilly:
support for Javascript, CSS, Flash, SVG, video, and audio
based on Firefox 3.6 engine which is not even available for desktops yet
Firefox for Mobile will initially support Windows Mobile and Maemo, followed by Android and Symbian

surely, iPhone owners are out of luck as Apple will never allow a competing browser app on their market. Great – another reason to switch to Android
Blackberry users are also out of luck as BB uses Java
Android also uses Java and initially Mozilla ignored it. However, later the Android NDK came out, which allows building of applications in C/C++ and this fact changed everything

the first public releases should be available in December 2009, according to this article.
Some useful linkage:
Conclusion
Firefox for Mobile is going to be a serious contender in the mobile web space – we know how serious these guys can get, don't we? After all, they've turned a barely known browser into a #2 in the last few years (soon to be #1, right?). Surely, they can do it again, this time in mobile.
I will be trying out Mobile Firefox (for Android) as soon as I get my hands on it, so expect a detailed review then. I have little doubt that it will replace my plain mobile browser.
What do you guys think?
● ● ●
Artem Russakovskii is a San Francisco programmer and blogger. Follow Artem on Twitter (
@ArtemR
) or
subscribe to the RSS feed
.
In the meantime, if you found this article useful, feel free to buy me a cup of coffee below.