Updated: October 6th, 2009
WTF
I don't know about you, but I'm incredibly sick of Facebook quizzes. Yeah, shit like this which occupies 90% of my news feed: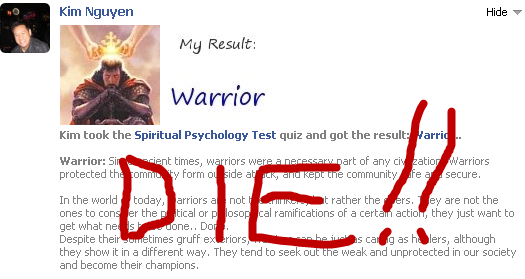 And to make matters worse, Facebook provides no means to block these quizzes and rid your profile of them forever. The only thing you can do is block each individual quiz. But just like weeds in your backyard, when you block one, three more rise up in its place. I know I am not alone here – there are literally billions of people searching for a solution to the plague.
So, what does the tech community do when it is not happy?
Runs to mommy, crying.
Drinks heavily, passes out, and comes to work with a

…

Read the rest of this article »
Updated: August 20th, 2009
If you haven't heard of Digsby yet, you have probably been living in some kind of a virtual cave or have no friends. Digsby is a multi-network instant messenger application, similar to Trillian, Pidgin (GAIM), or Miranda. I said 'similar', so what makes Digsy special? Reviews I read so far don't give the real reasons and don't dive into the features in depth. Instead, you get a standard load of marketing BS and in the end to you, the user, Digsby may end up being "yet another IM program." Some reviews describe certain features, but so far I haven't seen one that highlighted THE MAIN REASON why Digsby is different. And may I preface it with: finally somebody got a …
Read the rest of this article »
Posted by Artem Russakovskii on April 16th, 2008 in
Databases
Updated: April 24th, 2008
Unfortunately I didn't find any available seats to take notes for this but this morning a very interesting keynote took place. Representatives from 7 large companies mentioned in the title gathered on stage and answered various questions by MySQL's Kaj Arno.
These questions included things like "how many MySQL servers do you have", "how many DBAs", etc. It was a lot of fun, hopefully someone (Sheeri) will edit and post the video soon.
Keith has a nice summary of everything that went on together with the numbers here.
Update: Venu has even better notes here….
Read the rest of this article »