Today Travis was messing around with a Chinese site blinkx has indexed a short while ago http://www.tudou.com and saw a cryptic error message that started coming up on all pages. The message looked something like this:

各位土豆:
为了给大家提供更好的服务,我们正在搬迁扩建土豆的中心机房。
3月14日凌晨0:00 ~ 夜间24:00,我们的服务暂停24小时。
3月15日凌晨0:00 新机房就搬迁完成了,土豆会准时回家。
Now, neither Travis nor I know the language of Chinese, so what do we do? Go to Google Translate, of course. Here's what Google Translate produced: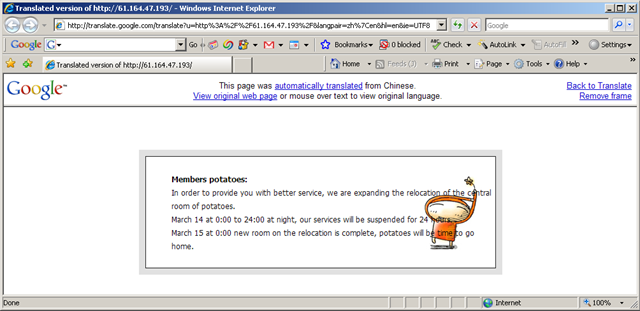 That's:
Members potatoes:
In order to provide you with better service, we are expanding the relocation of the central room of potatoes.
March 14 at 0:00 to 24:00 at night, our services will be suspended for 24 hours.
March 15 at 0:00 new room on the relocation is complete, potatoes will be time to go home.
No wonder the servers went down, being powered by potatoes from a central room of potatoes and all. I guess expanding to a larger room of even more potatoes was the only way out.
● ● ●
Artem Russakovskii is a San Francisco programmer and blogger. Follow Artem on Twitter (
@ArtemR
) or
subscribe to the RSS feed
.
In the meantime, if you found this article useful, feel free to buy me a cup of coffee below.