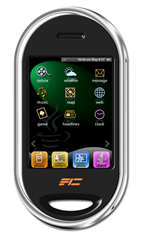 One thing that still springs to mind when I think of the MySQL User Conference last week is Sun's opening keynote. While talking about Sun's market penetration with open source software, Jonathan Schwartz, Sun's CEO, slipped in a short mention of the mobile market saying something along the lines of "Sun is going to be entering the mobile market later on this year". He didn't spend more than 5 seconds talking about it, moving on to the acquisition of MySQL.
Last year, Sun already made an announcement of JavaFX, a Java-based mobile platform but didn't provide any concrete timelines, so I was excited to hear the more on the subject. With Apple iPhone's advent last year and Google entering the same space later on this year with Android, Sun's addition to the game definitely won't hurt consumers. After all, competition usually leads to better products.
So when is the phone coming, Jonathan? My guess is you're going to try as hard as possible to compete with Google's second half of 2008 timeline but are you going to manage to beat it? And will it blow us away? I guess time will show.
● ● ●
Artem Russakovskii is a San Francisco programmer and blogger. Follow Artem on Twitter (
@ArtemR
) or
subscribe to the RSS feed
.
In the meantime, if you found this article useful, feel free to buy me a cup of coffee below.