Updated: July 30th, 2021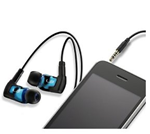 Today Amazon posted a Goldbox superdeal on the stunning Ultimate Ears TripleFi 10 And TripleFi 10vi earphones. The price drop is absolutely mind blowing – they now cost $99 instead of $400.
I've been watching these earphones for 3 years and I've never seen them drop to even $250. Even Black Friday couldn't even dream of a deal like this. After seeing today's deal, I'm upgrading from SuperFi 5 to TripleFi 10vi.
So why am I so excited?
Because:
these earphones are some of the best you can buy, even at full price. I've owned their "younger brother" Ultimate Ears SuperFi 5 for the last 3 years (see my review of those) and I still can't stop raving about them. I've influenced many people to buy them and every single one has had nothing but positive things to say about their purchase
the sound quality is stunning – I remember putting them on for the first time and hearing sounds and instruments in my music that I never imagined were there all along. Even though they have a small size, they sound just as good as those BIG professional studio hearphones
the sound isolation – crying babies? A train passing by right by your ears? I can't hear any of those because these insulate the sounds so well. At the same time, I don't feel like they go too deep into my ear – in fact, they're very comfortable
sturdy cord – it is thicker and sturdier than any other cord I've ever seen. This means it won't rip, break, or strip easily 
the cord is replaceable – cord damage is the #1 reason for throwing away your headphones. With Ultimate Ears, you can just snap the cable off and replace it with a new one. Replacement cords cost $20 but so far all I had to do was email or call Ultimate Ears and ask them for one – and they sent it to me for free.
best customer service in the business – any time I dialed the customer service number, my call was answered by a live person within 30 seconds. All my problems were resolved at no charge and in a very polite manner.
got an iPhone, Android, or another mobile phone? Get the TripleFi 10vi model because it actually has a built-in microphone, which means you can use it with your phone as a headset. I specifically bought the 10vi model to use it with my HTC Hero.
compared to the SuperFi 5, TripleFi 10 has an extra driver (3 drivers total!) which means better bass and clarity. I could really tell the difference when I was comparing the 2 models.
Conclusion
So my advice for you is: try them. If you don't like them (which is impossible), send them back.
I am rarely *this* excited about a product. Ultimate Ears earphones, however, brings out the jitters in me even today.
Do you own UltimateEars or are you considering getting them? Have questions or comments? Feel free to share below.
● ● ●
Artem Russakovskii is a San Francisco programmer and blogger. Follow Artem on Twitter (
@ArtemR
) or
subscribe to the RSS feed
.
In the meantime, if you found this article useful, feel free to buy me a cup of coffee below.