Updated: July 30th, 2021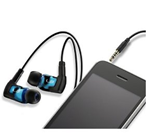 Today Amazon posted a Goldbox superdeal on the stunning Ultimate Ears TripleFi 10 And TripleFi 10vi earphones. The price drop is absolutely mind blowing – they now cost $99 instead of $400.
I've been watching these earphones for 3 years and I've never seen them drop to even $250. Even Black Friday couldn't even dream of a deal like this. After seeing today's deal, I'm upgrading from SuperFi 5 to TripleFi 10vi.
So why am I so excited?
Because:
these earphones are some of the best you can buy, even at full price. I've owned their "younger brother" Ultimate Ears SuperFi 5 for the last 3 years (see my review of those) and I still can't stop

…

Read the rest of this article »