Updated: September 16th, 2012
Introduction
StackOverflow is an amazing site for coding questions. It was created by Joel Spolsky of joelonsoftware.com, Jeff Atwood of codinghorror.com, and some other incredibly smart guys who truly care about user experience. I have been a total fan of SO since it went mainstream and it's now a borderline addiction (you can see my StackOverflow badge on the right sidebar).
The Story
Update 6/21/09: This server is currently under very heavy load (10-200), even with caching plugins enabled. Please bear with me as I try to resolve the situation.
Feel free to bookmark this page and return to it later when the fires have been put out.
Update 06/21/09: I think I've got the situation …
Read the rest of this article »
Updated: July 30th, 2021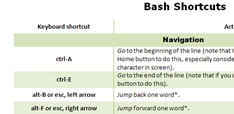 During my day-to-day activities, I use the Bash shell a lot. My #1 policy is to optimize the most frequently used activities as much as possible, so I've compiled these handy bash shortcuts and hints (tested in SecureCRT on Windows and Konsole on Linux). The article only touches on the default bash mode – emacs, not vi. If you haven't specifically assigned your shell mode to vi (set –o vi), you're almost certainly using the emacs mode. Learn these and your shell productivity will skyrocket, I guarantee it.
Update #1: In response to a few people saying this list is too short and "[he] could've added something to it, to at least make it look longer" (quote from one of
…
Read the rest of this article »