Updated: October 24th, 2012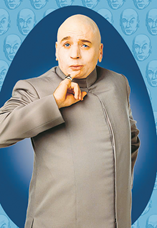 I'm now convinced that insurance companies exist in this world for the sole purpose of making our lives a living hell any time we need to deal with them. The worse each experience, the less likely we are to file another claim. Of course, we're also less likely to continue coverage with the same company, but at that point they'd already received our money and, if we accept a notion that most insurance companies have the same evil idea in mind, there's little one can do to get satisfaction. Except for one thing – spread information about such especially heinous institutions.
Does my story have a happy ending? Maybe, or maybe not, it depends on whether you think the …
Read the rest of this article »
● ● ●
Artem Russakovskii is a San Francisco programmer and blogger. Follow Artem on Twitter (
@ArtemR
) or
subscribe to the RSS feed
.
In the meantime, if you found this article useful, feel free to buy me a cup of coffee below.