Posted by Artem Russakovskii on March 21st, 2010 in
Wordpress
Updated: September 16th, 2012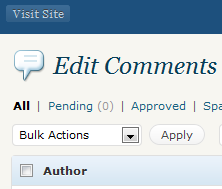 Introduction
If your WordPress comment counts got messed up, whether because of a plugin (I'm talking about you, DISQUS) or you messed with your database manually and did something wrong (yup, that's what I just did), fear not – I have a solution for you.
But first, a little background.
Comment Counts In WordPress
Here's how comment counts work in WP:
Posts live in a table called wp_posts and each has an ID.
Comments reside in a table called wp_comments, each referring to an ID in wp_posts.
However, to make queries faster, the comment count is also cached in the wp_posts table, rather than getting calculated on every page load.
If this count ever gets out of sync with

…

Read the rest of this article »
Posted by Artem Russakovskii on July 9th, 2007 in
Linux
Updated: November 9th, 2007
So today I was looking for a proper sources.list file that would work for apt-get in SUSE 10.2 since the one in yast and smart repositories comes with a broken list. And by broken I mean completely f***ed.
apt-get update
Err ftp://mirrors.mathematik.uni-bielefeld.de SuSE/

10.2

-i386 release
Could not resolve 'mirrors.mathematik.uni-bielefeld.de'
Get:

1

 ftp://ftp4.gwdg.de SuSE/

10.2

-i386 release
Ign ftp://ftp4.gwdg.de SuSE/

10.2

-i386 release
Err ftp://mirrors.mathematik.uni-bielefeld.de SuSE/

10.2

-i386/base pkglist
Could not resolve 'mirrors.mathematik.uni-bielefeld.de'
Err ftp://mirrors.mathematik.uni-bielefeld.de SuSE/

10.2

-i386/base release
Could not resolve 'mirrors.mathematik.uni-bielefeld.de'
Err ftp://mirrors.mathematik.uni-bielefeld.de SuSE/

10.2

-i386/update pkglist
Could not resolve 'mirrors.mathematik.uni-bielefeld.de'
Get:

1

 ftp://ftp4.gwdg.de SuSE/

10.2

-i386/base pkglist
Err ftp://mirrors.mathematik.uni-bielefeld.de SuSE/

10.2

-i386/update release
Could not resolve 'mirrors.mathematik.uni-bielefeld.de'
Err ftp://ftp4.gwdg.de SuSE/

10.2

-i386/base pkglist
Unable to fetch file, 
…
Read the rest of this article »