Posted by Artem Russakovskii on January 15th, 2009 in
Stuff
Updated: January 18th, 2010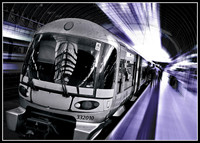 After I graduated and got a job in downtown San Francisco, I spent the first 2 weeks trying to figure out where I could park cheaper. At $300-400 for a monthly spot or $15-30 daily, the fees started adding up really quickly. In fact, I am fully convinced that 80% of the people who can afford to park in downtown expense it in full.
I do not know why I haven't thought of public transportation sooner. Maybe because I used to [so wrongly] associate it only with people who cannot afford a car and considered myself superior to the group, or because I thought it was too ghetto (though, very true in some cases). However, as soon as I started …
Read the rest of this article »
● ● ●
Artem Russakovskii is a San Francisco programmer and blogger. Follow Artem on Twitter (
@ArtemR
) or
subscribe to the RSS feed
.
In the meantime, if you found this article useful, feel free to buy me a cup of coffee below.