Updated: September 8th, 2009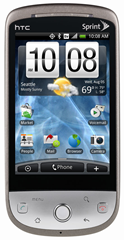 Well, it looks like the wait is over. I have been waiting for almost 5 years for a new phone that is good enough to make the switch from Samsung A900 (which has free tethering). Don't even get me started on the iPhone and its outrageous monopoly with AT&T. Android and the growing multitude of devices running it is, however, completely different business. Android offers unparallel freedom and I truly believe it will be the top phone OS within a few years as more and more Android phones are introduced to the market.
But where was I? I have been closely following Android news since its inception, then the introduction of the first phone – T-Mobile G1 (aka HTC Dream), …
Read the rest of this article »
Updated: June 1st, 2008
I think this is going to be really neat: you walk around the streets of San Francisco, for example, with your Android powered phone, en route to your destination 20 blocks away.
You whip out your phone, go to Google Maps, pull up the StreetView (remember this?), which zeroes in on your location using a built-in GPS, and then changes as you move the phone around using the built-in compass.
You then virtually walk the city, looking around, without actually moving an inch (looking for the closest ATM, restaurant, etc, hint-hint?).
Without further ado, let's have a look at this video from Google's I/O Conference for a demonstration?