Posted by Artem Russakovskii on March 21st, 2010 in
Wordpress
Updated: September 16th, 2012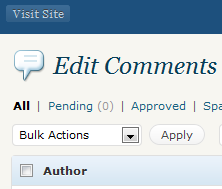 Introduction
If your WordPress comment counts got messed up, whether because of a plugin (I'm talking about you, DISQUS) or you messed with your database manually and did something wrong (yup, that's what I just did), fear not – I have a solution for you.
But first, a little background.
Comment Counts In WordPress
Here's how comment counts work in WP:
Posts live in a table called wp_posts and each has an ID.
Comments reside in a table called wp_comments, each referring to an ID in wp_posts.
However, to make queries faster, the comment count is also cached in the wp_posts table, rather than getting calculated on every page load.
If this count ever gets out of sync with

…

Read the rest of this article »
● ● ●
Artem Russakovskii is a San Francisco programmer and blogger. Follow Artem on Twitter (
@ArtemR
) or
subscribe to the RSS feed
.
In the meantime, if you found this article useful, feel free to buy me a cup of coffee below.