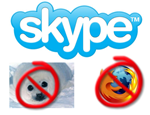 Introduction
Dear Skype,
you are great. You have the convenience of a nearby, well, convenience store and the UI that is acceptable to even an Apple fanboy (I'm not one, I'm just saying).
Skype also has a Firefox extension which finds all pieces of text that resemble phone numbers on web pages you are visiting and converts them into clickable Skype buttons

. One click and you're dialing the number. The premise is great but the execution… When it comes to your Firefox extension, Skype – you suck. You really suck.
The Problem Bullshit
So what makes me say these mean things? Is it the fact that when simply searching Google for "skype firefox", one finds mostly blog posts …
Read the rest of this article »
● ● ●
Artem Russakovskii is a San Francisco programmer and blogger. Follow Artem on Twitter (
@ArtemR
) or
subscribe to the RSS feed
.
In the meantime, if you found this article useful, feel free to buy me a cup of coffee below.