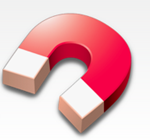 ExpanDrive (formerly SFTPDrive) is a very handy Windows and Mac application that lets you take any SSH connection and mount it as a local drive. It saves me countless annoyances because I don't have to use a proprietary sftp uploader – in fact, I can simply open any file with my favorite editor, directly on the newly mounted drive.
The Problem
The problem with ExpandDrive is – it's quite simplistic. So simplistic that it doesn't offer an easy way to export its drive list and the associated settings. Because of that, you will have to enter all the drives all over again in case you reinstall Windows or want to replicate them to another computer.
Of course, there is a …
Read the rest of this article »
Updated: January 30th, 2013
The Problem
My fiancée Emilie has had her Palm Pre for about 2 weeks now, and one specific problem that started showing up last week has been incredibly annoying, causing us all kinds of trouble.
After Emilie got the phone, she added 3 email accounts – Gmail, Hotmail, and Yahoo. One day, after sending an email through the Pre, a popup showed up that said "Error sending" followed by the subject of that specific email. Swiping the error away didn't help – it just came back 5 minutes later. In fact, it has been coming back every 5 minutes of every day since, lighting up the screen each time. Thus, not only it was annoying, but it was running down …
Read the rest of this article »