Updated: December 14th, 2017
Introduction

Screen is awesome. Once you become comfortable navigating around it, you start using it ALL the time. No more dropped sessions, no having 10 Putty windows open at the same time, no more nohup.
However, with default screen settings I've always felt a bit lost and out of place, mostly because there was no "taskbar" with a bird's eye view of all windows. Pressing ctrl-a, " really does get annoying fast (that's the command that brings up the window selector – screenshot below).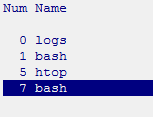 So instead I modded my screen to have a "taskbar" which sits at the bottom of screen and adds:
● ● ●
Artem Russakovskii is a San Francisco programmer and blogger. Follow Artem on Twitter (
@ArtemR
) or
subscribe to the RSS feed
.
In the meantime, if you found this article useful, feel free to buy me a cup of coffee below.