Updated: March 10th, 2009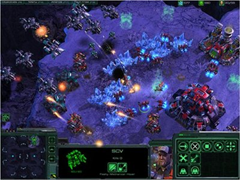 I could not be more excited about the upcoming Starcraft 2. Announced in 2008, a whopping 10 years after the first Starcraft release, the news sent shockwaves through millions of Starcraft fans, myself included.
I've been watching and anxiously awaiting the release and, while the final release date is unknown at this point (I'll update the post when it is announced), I've assembled a list of current Starcraft 2 facts, summarized as bullet points.
But before I get into that, here's the most important part you need to know to be able to get your hands on the game right after it's released and play online ($49):
1. I want to download and play FLVs on my computer.
2. I don't want to use some crappy FLV player that only plays FLVs and has an interface from either 1995 or 2034 – I want to use my favorite player, like Media Player Classic.
3. Yes, VLC plays FLVs but it can't fast forward or rewind them. Yes, mplayer plays FLVs but I want a GUI. Yes, mplayer supports GUIs but they all pretty much suck. I don't particularly like VLC's or mplayer's interface – want to fight about it?
Enter the latest version of ffdshow. ffdshow is a decoding filter – think of it as a set of codecs for your media players. It supports …
Read the rest of this article »