Updated: March 10th, 2009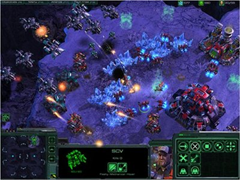 I could not be more excited about the upcoming Starcraft 2. Announced in 2008, a whopping 10 years after the first Starcraft release, the news sent shockwaves through millions of Starcraft fans, myself included.
I've been watching and anxiously awaiting the release and, while the final release date is unknown at this point (I'll update the post when it is announced), I've assembled a list of current Starcraft 2 facts, summarized as bullet points.
But before I get into that, here's the most important part you need to know to be able to get your hands on the game right after it's released and play online ($49):
There will be 3 separate Starcraft 2 games (take a guess why 3 and not 5 or 2).
You will be able to play as any race online via battle.net using any of the 3 games in the trilogy. Good, I was wondering about that. Now that I think about it, being able to play only as Terran for months would be kind of weird.
The 1st game will center around Terrans and will contain a Terran campaign. It will be called Wings Of Liberty.
The 2nd game will center around the Zerg race. It will be called Heart Of The Swarm.
The 3rd and final game will center around the Protoss race. It will be called Legacy Of The Void.
(Those are some f***ing well named games. The best thing I could come up with was "Starcraft 2: The End Of Korean Economy")
Each campaign will have 26-30 missions, rather than 8-10. This is done with the sole purpose of getting me fired for not coming to work for 3 weeks.
Again, the final release date is unknown at this point but there are rumors of an upcoming beta. You have to be a God level human to get your hands on it, so I don't qualify [yet].
Some units are new, some are removed, and most of the others have modified abilities and stats.
Development of SC 2 was announced on May 19, 2007 under the codename Medusa but was originally started in 2003.
There are plans to include VOIP (in-game voice chat) into the game. Oh noes, did we not figure out how bad of an idea it is yet? Ever tried playing Counterstrike without turning off voice for 2 minutes? I dare you.
So, who else is psyched?
While we are all forced to twiddle our thumbs waiting for the release, the least I can do is provide these carefully picked HD videos to ease your misery:
[HD] StarCraft II Terrans: Wings of Liberty PC Games Gameplay – Battle Report #1 – Terran vs. Protoss
[HD] StarCraft 2 Gameplay – BlizzCon 2008
[HD] The Now Classic Huge Gameplay Demo From 2007
● ● ●
Artem Russakovskii is a San Francisco programmer, blogger, and future millionaire (that last part is in the works). Follow Artem on Twitter (@ArtemR) or subscribe to the RSS feed.
In the meantime, if you found this article useful, feel free to buy me a cup of coffee below.