What Is This All About?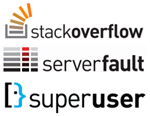 If you, like me, love StackOverflow, SuperUser, ServerFault – the community programming/software/sysadmin Q&A sites built by Joel Spolsky and Jeff Atwood and you are an active member of these sites, you owe it to yourself to install this underappreciated and unadvertised greasemonkey script: StackOverflow – User Info Aggregate. I really think it should get more attention. All credit goes to Jon Erickson.
(What? You've never heard of the sites mentioned above and you call yourself a programmer? Shame on you – go check them out immediately!)
Once you install the script, the top bar that normally shows only single site statistics, like so:

will turn into a multi-site bar, with all …
Read the rest of this article »
● ● ●
Artem Russakovskii is a San Francisco programmer and blogger. Follow Artem on Twitter (
@ArtemR
) or
subscribe to the RSS feed
.
In the meantime, if you found this article useful, feel free to buy me a cup of coffee below.