Updated: June 24th, 2020
What Is This All About?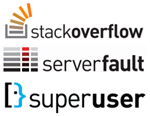 If you, like me, love StackOverflow, SuperUser, ServerFault – the community programming/software/sysadmin Q&A sites built by Joel Spolsky and Jeff Atwood and you are an active member of these sites, you owe it to yourself to install this underappreciated and unadvertised greasemonkey script: StackOverflow – User Info Aggregate. I really think it should get more attention. All credit goes to Jon Erickson.
(What? You've never heard of the sites mentioned above and you call yourself a programmer? Shame on you – go check them out immediately!)
Once you install the script, the top bar that normally shows only single site statistics, like so:

will turn into a multi-site bar, with all …
Read the rest of this article »
I just got back from the StackOverflow's DevDays conference in the rainy (at least today) San Francisco.
I was really glad to see Joel Spolsky, Jeff Atwood, and the whole StackOverflow team in person, as well as listen to great talks in the following topics:
9:00 – 9:50    Joel Spolsky Opening Keynote
9:50 – 10:45    Mark Harrison Python
11:00 – 11:55    Rory Blyth iPhone
11:55 – 12:25    Joel Spolsky Fogbugz
13:30 – 14:25    Scott Hanselman ASP.NET-MVC
14:25 – 14:45    Jeff Atwood Stack Overflow
14:45 – 15:40    Daniel Rocha Qt
16:10 – 17:05    James Yum Android
17:05 – 18:00    Yehuda Katz jQuery
My own favorite topics were in the following order of fun/usefulness level: