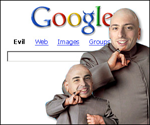 Recently, I decided to conduct a Google experiment and write down what the search engines suggests for the phrase "why are" followed by all kinds of nationalities, races, and localities (alright, "recently" seems to be last March, as evident from the Google theme, but I only decided to post this now).
I did this just for fun and found most of the results funny, some hilarious, and some offensive and controversial.
However, all of them have a reason for being there – statistics. It's what people search for. The cream of the crop. Stereotypes, hilarities, it's all here.
If you can, please don't take them too close to heart. In fact, if you're a righteous conservative thinking of lecturing me, …
Read the rest of this article »
● ● ●
Artem Russakovskii is a San Francisco programmer and blogger. Follow Artem on Twitter (
@ArtemR
) or
subscribe to the RSS feed
.
In the meantime, if you found this article useful, feel free to buy me a cup of coffee below.