Posted by Artem Russakovskii on June 7th, 2006 in
Linux
Updated: November 4th, 2007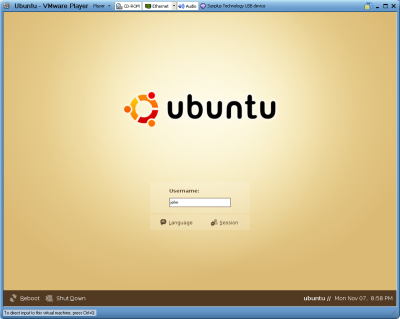 Installed Ubuntu LTS 6.06 as a 2nd OS on my Dell E1505 laptop today after delaying doing this for a while. This article from digg finally made me install it, which took roughly 10 minutes, as it mentions. Compare this and 0 reboots to 45min and 5 reboots installing Windows. Ubuntu's pretty damn sweet; I'm gonna go tweak it now with the help of Arthur. I'm predicting that Linux (and Ubuntu in particular, as of now) will eat up Windows' market share surely and quickly. The dual boot is very friendly, it uses GRUB as the boot manager. To boot directly into Windows by default, I edited /boot/grub/menu.list from Ubuntu.
● ● ●
Artem Russakovskii is a San Francisco programmer and blogger. Follow Artem on Twitter (
@ArtemR
) or
subscribe to the RSS feed
.
In the meantime, if you found this article useful, feel free to buy me a cup of coffee below.