Posted by Artem Russakovskii on September 3rd, 2008 in
Technology
Updated: September 5th, 2008
So Google Chrome – Google's attempt at an open source browser, came out yesterday and I took it out for a spin. At its heart is the Webkit engine (also open source) and Google Gears, powered by SQLite (can MySQL rival SQLite in applications like this?). Here are my thoughts.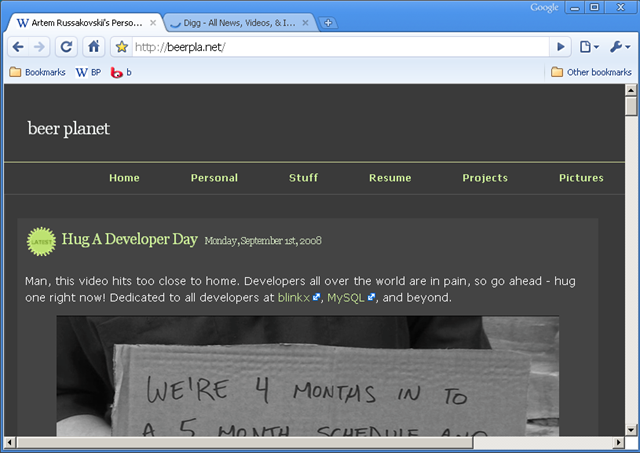 Fast – Chrome loads extremely fast, blazing even. Granted, my Firefox would probably load fast if I didn't have any addons as well. Sites like Amazon or Digg load very fast. New tabs open instantly.
Slow – http://www.blinkx.com/videos/channel:itn, seems like the combination of flash and html (or JS) on one page makes scrolling and redrawing quite slow.
Very fluid design – I love how the tabs flow around when you drag them or make them pop in or out, I love how fluid animation and resizing is.
Internal task manager – an absolutely brilliant idea. Since each tab and plugin get their own process, they don't affect each other. Any freezes are isolated to the process itself, so the days of hung browsers because of some buggy javascript should be gone gone (I'll actually have to see how well it works first).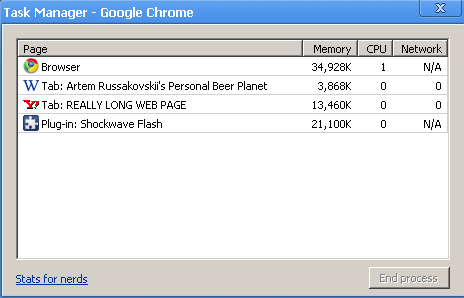 Great Google search integration and overall Firefox3-like url bar behavior.
The word search functionality is amazing – best out of all browsers. It's incredibly fast, even on large pages, highlights all the matches, with the current one in orange, and more importantly, gives count (finally!). The search popup complements the fluidity perfectly.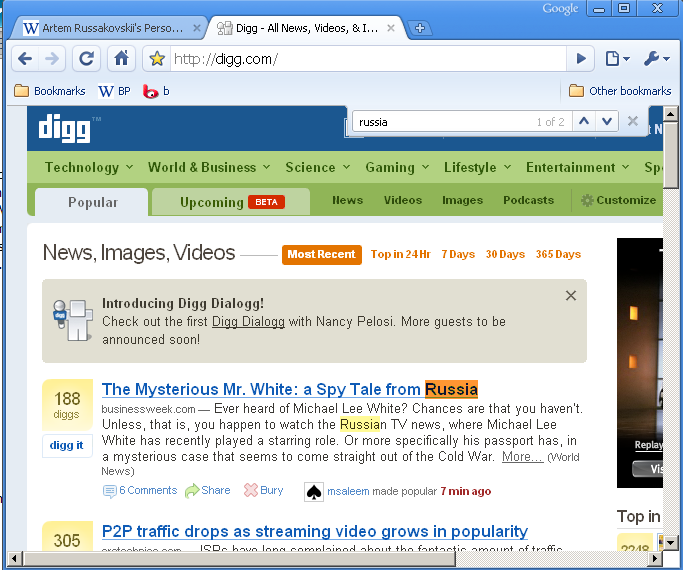 History – looks great and has a timeline style. It's like reading a journal.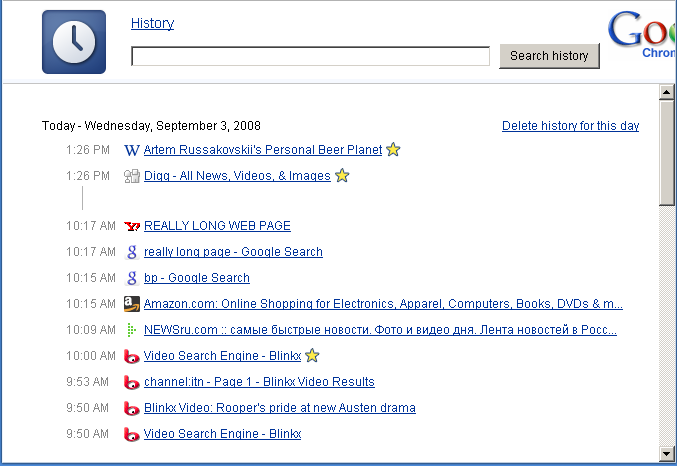 View Source – again, best in class. Highlighting and line numbers by default. Url access style: view-source:http://digg.com. Search spread highlighting on the right. It's close to perfect, without using any plugins.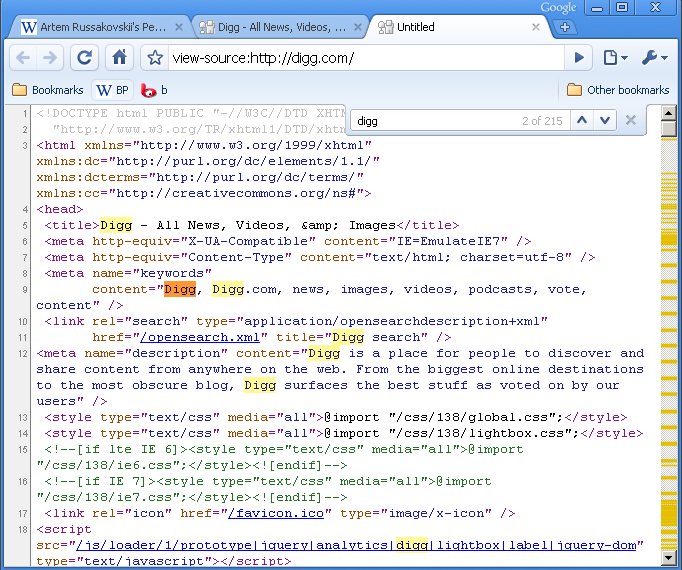 My bookmarks, where art though? Where's the bookmarks menu? I know the homepage has them, and there's a pretty hidden way to make the bookmarks bar appear all the time (right click on it while on the home page and check 'Always show bookmarks bar' but that's not what I want. I like placing many-many bookmarks named with 1 or 2 letters onto the bookmarks bar (I found a way to emulate the behavior in the screenshot below). How can I create duplicates of the same bookmark in different places? It seems you can only bookmark in one. The interface to get around managing the bookmarks isn't well thought out, you can get to certain places only the certain way. How do you export/import bookmarks after the initial installation (I chose to skip mine)? Edit: Apparently, you can't yet.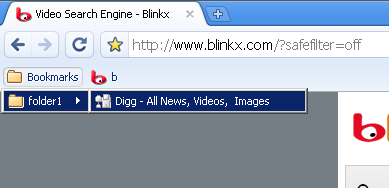 The homepage button is missing (though it can be enabled by Options->Show Home button on the toolbar). Why is it not on by default?

I also enabled the following option right away (the main reason I use TabMix Plus for Firefox):

Scrolling is very choppy and goes in huge jumps on my laptop (not the case in Firefox).
Status bar – why do you disappear automatically when I get close to you? You can be so useful and display so much useful info? Stop disappearing!
What with the Vista-style buttons? I have Win2k menus, which I find a lot simpler and easier on the eye. Why not inherit the window style?

No Linux support. Hopefully coming soon.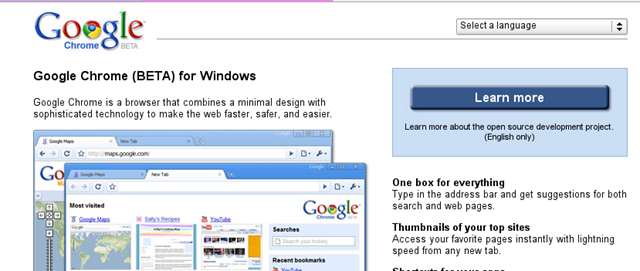 No addons supported or announced yet.
In conclusion, I understand the browser is very new and will probably go through many facelifts, UI changes, bug fixes, and enhancements but it has a lot to cover and if it's going to try to rival the giants, it better fix some things fast. I personally won't start using it until some addons start showing up, like the AI Roboform (AI Roboform has actually responded to this guy about such addon possibility) and Adblock Plus ones. However, for occasional browsing, it's great. Give it a spin.
● ● ●
Artem Russakovskii is a San Francisco programmer and blogger. Follow Artem on Twitter (
@ArtemR
) or
subscribe to the RSS feed
.
In the meantime, if you found this article useful, feel free to buy me a cup of coffee below.