Updated: July 30th, 2021
Introduction
In this review I'm going to take a look at a pair of 2010 thirtytwo Focus Boa snowboard boots that I picked up a few weeks ago, after spending a day demoing them in the snow at a resort in Tahoe.
Even though I am an avid snowboarder (I try to go to the snow almost every weekend during the winter), I haven't evaluated my gear in years. This season, however, I decided to take a look at my options with the snowboard boots.
The Upgrade
It was only after the shoelace on one of my 5 year old Salomon Dialogue boots snapped that I even considered checking out other boots. I was always *kind of* happy with …
Read the rest of this article »
Posted by Artem Russakovskii on September 3rd, 2008 in
Technology
Updated: September 5th, 2008
So Google Chrome – Google's attempt at an open source browser, came out yesterday and I took it out for a spin. At its heart is the Webkit engine (also open source) and Google Gears, powered by SQLite (can MySQL rival SQLite in applications like this?). Here are my thoughts.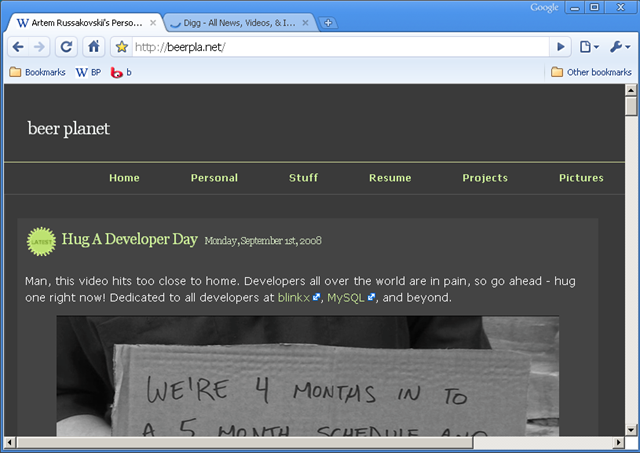 Fast – Chrome loads extremely fast, blazing even. Granted, my Firefox would probably load fast if I didn't have any addons as well. Sites like Amazon or Digg load very fast. New tabs open instantly.
Slow – http://www.blinkx.com/videos/channel:itn, seems like the combination of flash and html (or JS) on one page makes scrolling and redrawing quite slow.
Very fluid design – I love how the tabs flow around

…

Read the rest of this article »