Updated: July 30th, 2021
Introduction
In this review I'm going to take a look at a pair of 2010 thirtytwo Focus Boa snowboard boots that I picked up a few weeks ago, after spending a day demoing them in the snow at a resort in Tahoe.
Even though I am an avid snowboarder (I try to go to the snow almost every weekend during the winter), I haven't evaluated my gear in years. This season, however, I decided to take a look at my options with the snowboard boots.
The Upgrade
It was only after the shoelace on one of my 5 year old Salomon Dialogue boots snapped that I even considered checking out other boots. I was always *kind of* happy with the Dialogues but never really fully happy.
Here are some reasons you, like me, might not be happy with your boots:
They were hard to get into and yet my foot would move around inside. They were comfortable to walk around in but little did I know that it was actually a sign of the wrong boot size – more on that later.
The outer lace, which uses this seemingly pretty cool one-pull quicklace, would actually constantly loosen itself.
The inner lace never really tightened well either.
They're kind of ugly… Here, check my old ones out.
To cut the long story short, after trying on a few different models and weighing all positives and negatives, I selected the 2010 thirtytwo Focus Boas for my demo day. The next day, absolutely in love with them, I came back and bought a pair on the spot.
Here are some snowboarding tips that I picked up during both my riding and my conversation with John at Tahoe Dave's:
Never rest the edge of the board on your boot. The board edge is quite sharp – it will shred your lace and destroy the boot surface. Instead, try to squeeze the front of the boot into the opening in the back of the binding or suck it up and let it hang.
If you have the Boa system, loosen it when you get down the hill, walk around in comfort, and then quickly snap it back at the top of the mountain.
The right boot size should feel tight all around but shouldn't be too painful in your toe area lengthwise. Remember that the boots will loosen inside after the break-in period and ask about the possibility of custom heat molding them to your foot's shape.
Wear thick socks while trying on boots. Also, lace them up fully and walk around to see how comfortable you are, while remembering the previous point.
Read more about boot sizes in a section called A Note On Boot Size below.
Main Highlights
Here are some highlights that make these boots top notch:
Here's each one in detail:
Dual Zone Boa Lacing System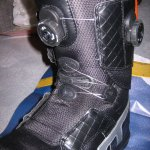 The Boa lacing system is what really sets these boots apart from most others, and anything I'd seen before.
Rather than having conventional laces that you need to tie, the Boa system consists of a dial and a metal cable. It is very simple.
You push on the dial to lock it and crank it clockwise to tighten the metal "lace".
When you want to loosen the grip, just pull on the dial and it instantly lets go and loosens the cable.
What this achieves is nothing short of amazing:
The quickest way to lace up and unlace.
Having this very durable cable instead of a soft lace makes it almost impossible to snap it (in an unlikely case that you do, there's a spare one in the box).
It doesn't untie throughout the day.
Small adjustments, such as tightening the lace, are very easy – I just have to turn the dial a few more clicks, which is possible to do while going down the hill.
Now, note that I mentioned a dual zone Boa. After the original Boa system came out, there were some complaints that it doesn't tie the cable evenly at the top and bottom – some people prefer to have a tighter fit at the bottom and a loser one at the top, for instance.
To address this issue, the 2010 Focus boots actually come with 2 dials and 2 sets of cables – one in the front and one on the side, controlling the top and bottom cables respectively.
I have to tell you – after using them 4 times this season, I am still excited about the Boa. I don't have to mess with my laces anymore, don't have to tighten them, and here's the most beautiful part: when I get down the hill, I unlace and walk around relaxed and comfortable (by pulling on the dials – takes 2 seconds). Then, when I'm back at the top of the lift, a few cranks and I'm back in business (6-10 seconds).
To summarize, the Boa cable system rocks.
Check it out in action in this quick video I shot:
Fully Heat Moldable Liner = Custom Fit Comfort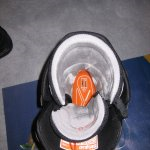 Another feature of these boots that makes them stand out is a fully heat moldable liner.
What this means is that you can essentially custom mold the inside of the boot to your foot.
It only needs to be done one time, when you buy the boots, and can be done at a local snowboard shop (it costs $10 at Tahoe Dave's, for example but is included for free if you buy the boots from them).
What sets the thirtytwo Focus boots apart from others is that most boots only contain a partially moldable liner. With the Focus, however, the whole liner can be molded.
In order to mold the liner, I had to put on special socks and wait till a special machine heats the boots up. After that, I had to put them on and stand around, flexing, for about 15 minutes. This ironed out all pressure points and eliminated any discomfort.
To summarize, the heat moldable liner is very comfortable and after molding fits your feet like a glove.
Forward Lean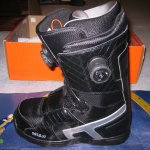 The Focus boots are angled forward for more convenient riding.
At first it may feel a bit unnatural, until you realize that on the mountain most of the time you ride bending your knees a bit and this forward lean is actually much more comfortable than the plain L shape of your old boots.
In fact, because of the Boa system that allows you to quickly unlace when you walk around, this extra lean never bothers me.
Excellent Tongue Strap And Inner Lacing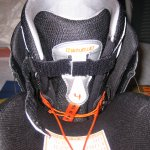 The inner lacing system is excellent – it locks in very easily, holds all day, and unlocks with a quick pull.
In order to make unlacing the inner lace easier, the thirtytwo folks added a loop to its bottom – pull on it and it relaxes the whole lace from the bottom. I found this very helpful at the end of the day.
There is also a strap going through the front of the tongue, which keeps it centered and snug with your leg.
A Note On Boot Size
I think the biggest mistake you can make buying new snowboard boots is getting them in the wrong size. Therefore, I highly suggest you try the boots out before you buy.
If you get them too big, your foot will move around and you will not have enough control. What's worse is it will most likely cause pain all over your foot and lower leg as you try to steer with a loose boot.
Even worse, if you get it too small, you will probably be in pain by the time you get half way down the mountain.
It turns out my previous boots were a size and a half too big: 10.5. I didn't know what I was doing 5 years back and didn't have the right person helping me out, so I went "safe" with something I felt less constrained in.
With thirtytwo boots, just go with your regular size. I wear size 9 shoes, and the size 9 boot ended up being perfect. Another person confirms the same observation here.
What's In The Box
boots
an extra metal replacement cord (don't think I'll ever need it but nice to have just in case)
a little tool for opening the cord mechanism
a snowboarding poster
a hamster (OK, maybe not)
Buy thirtytwo Focus Boas
I hope I helped influence your buying decision in one way or another and that you'll give these great boots a go.
They come in 2 different colors:
Black/Silver – these are the ones I got
Green/Black
Here are some places and direct links to purchasing the Focus Boa boots:
Similar Boots With A Dual Zone Boa System
Here are some competitors with a similar dual zone boa system, if you want to check them out and compare to the Focus:
Gallery
[lg_folder folder='2010/2010.01.05 thirtytwo Focus Boa Snowboarding Boots']
● ● ●
Artem Russakovskii is a San Francisco programmer and blogger. Follow Artem on Twitter (
@ArtemR
) or
subscribe to the RSS feed
.
In the meantime, if you found this article useful, feel free to buy me a cup of coffee below.