Updated: July 30th, 2021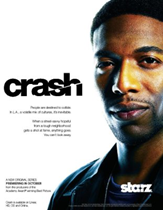 Crash is one of the new shows I'm into and Panic is one of the most likeable and original characters on the show. I really think he's going to be back after this show – it's his breakthrough performance.
So, in, I think, episode 4 Panic (Jocko's character) goes to the studio and raps for the first time. What comes out is quite amazing, I recommend you watch that episode for a more complete experience. Otherwise, proceed to the MP3 that I got directly off Jocko's myspace page.
You can play it right on this page (Edit: download link removed, per Jocko's request in the comments) or support Jocko by buying his album off Amazon for only $0.99 (see link below). I know it's really not my kind of music but I can appreciate good lyrics and execution. Enjoy.
Here's a streaming version:
[flashvideo filename=audio/Jocko_Sims_(Panic)_-_Head_up_(from_Crash_on_Starz).mp3 height=20 /]
Buy Jocko's song on Amazon:
● ● ●
Artem Russakovskii is a San Francisco programmer and blogger. Follow Artem on Twitter (
@ArtemR
) or
subscribe to the RSS feed
.
In the meantime, if you found this article useful, feel free to buy me a cup of coffee below.