Updated: January 25th, 2010
Introduction
If you follow web design at all, you probably see 5 billion top NN posts on a daily basis mentioning site and blog designs, fonts, icons, etc.
However, nobody seems to be paying attention to these little but important guys: comment forms.
If you have an appealing comment box, you are more likely to receive comments (this is based on days of scientific research that I imagined I did in my head) and your content is more likely to be re-shared, voted up, and saved.
I really do feel that way when I visit blogs, especially when an otherwise aesthetically pleasing site has a plain vanilla comment box.
Let's Go
So here we go. I have looked through hundreds of sites to make this collection, go ahead and let me know if you like it (yeah, I know, my comment box is not as spiffy as theirs).
I've also included my notes with the parts that I liked.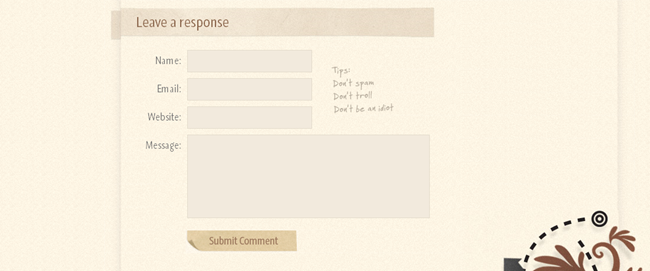 interesting submit button
fun background
great font
grungy
border glow
normal: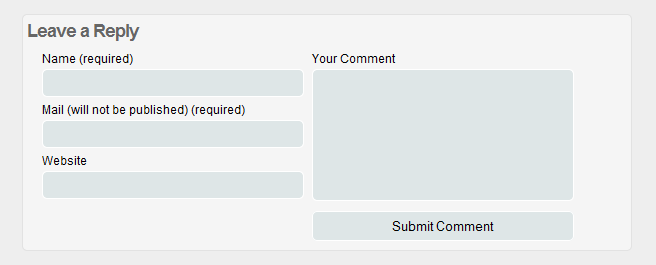 2 column
wide submit button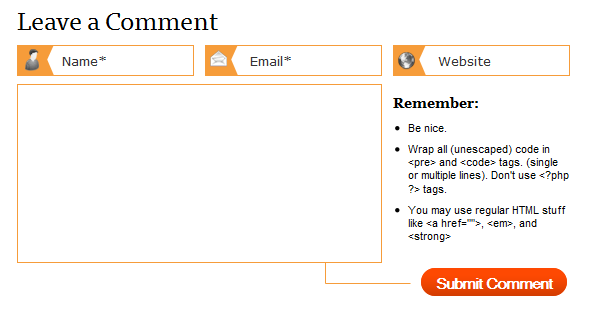 Chris Coyier doesn't mess around with crappy designs – his website is superb in general
normal:


internal disappearing labels
dimming labels
interesting submit button
custom images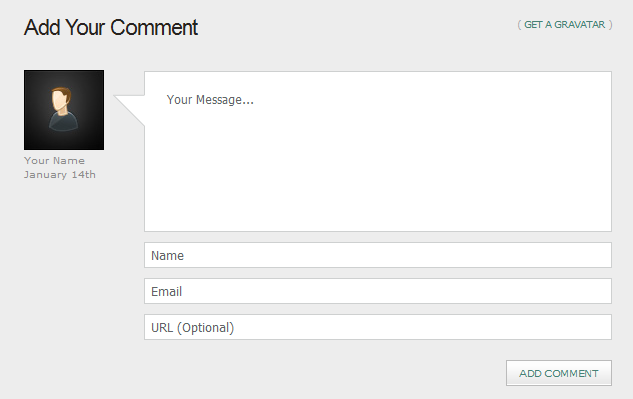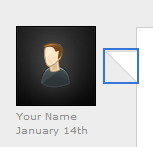 internal disappearing labels
appealing default avatar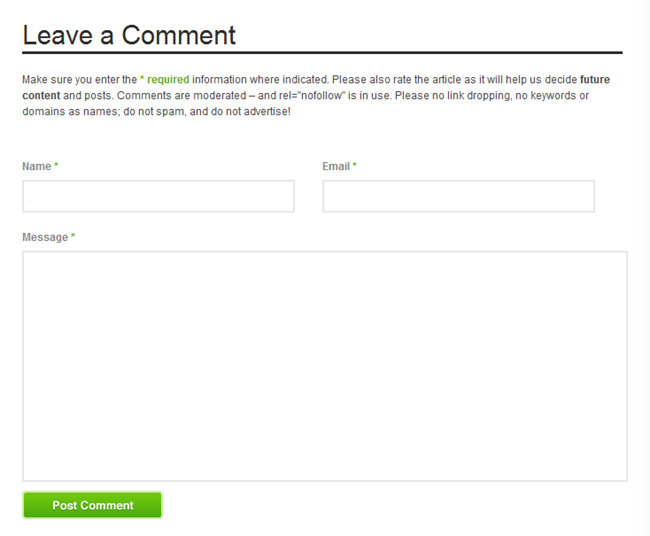 simplistic
appealing submit button
absence of author website – less spam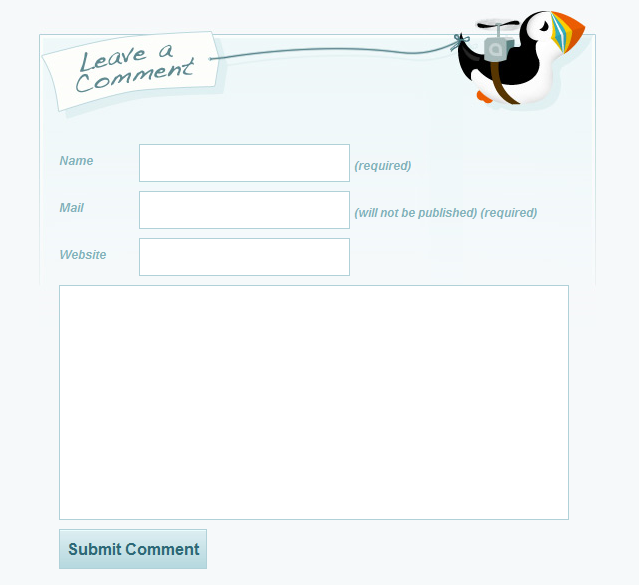 fading
interesting background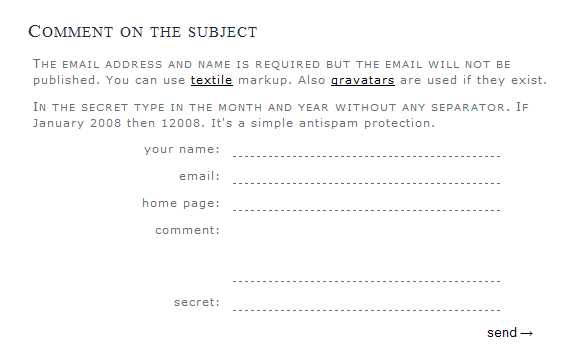 simplistic
unconventional – looks like a pad of paper or a letter
contains an anti-spam measure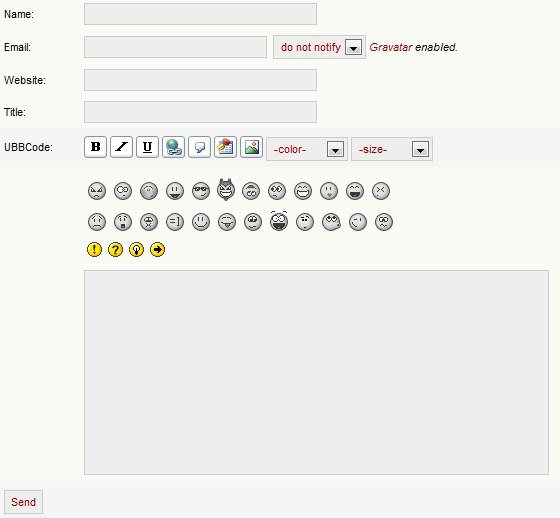 notify/don't notify option (for the first time the design is cohesive – not some random checkbox under the submit button)
lots of formatting buttons
smilies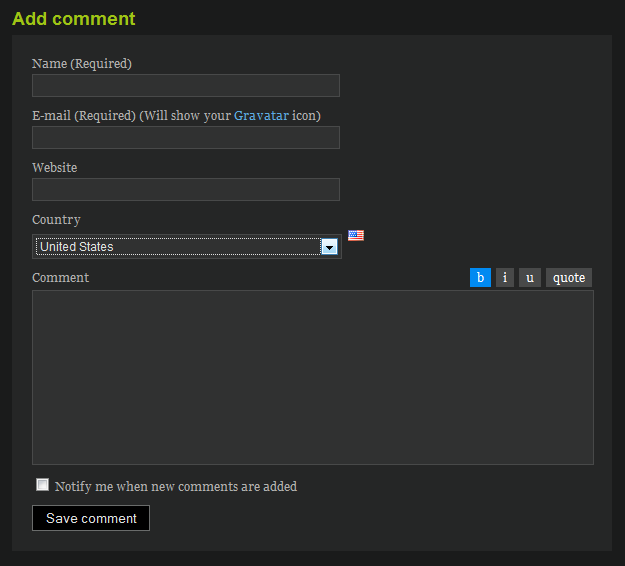 handy and appealing formatting buttons
flag next to the country – it then shows up next to each commenter, kind of cool: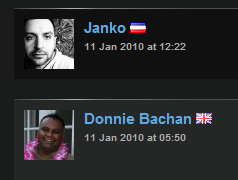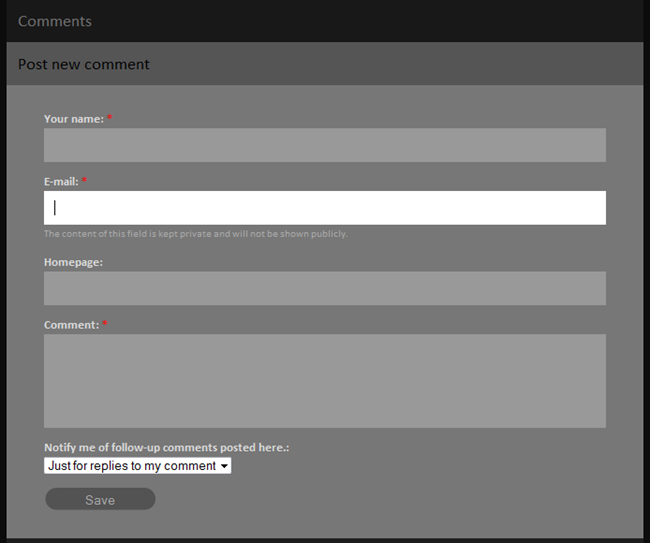 highlight the field with focus – concentrate attention on one spot
large padding
by the way, they have an amazing header. I couldn't resist: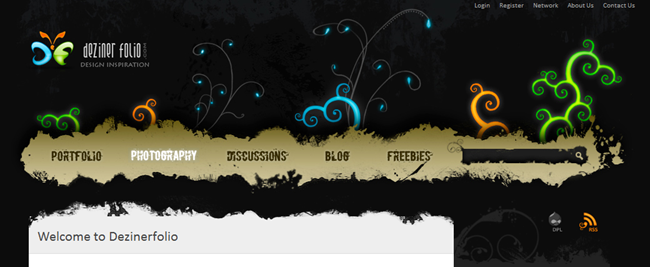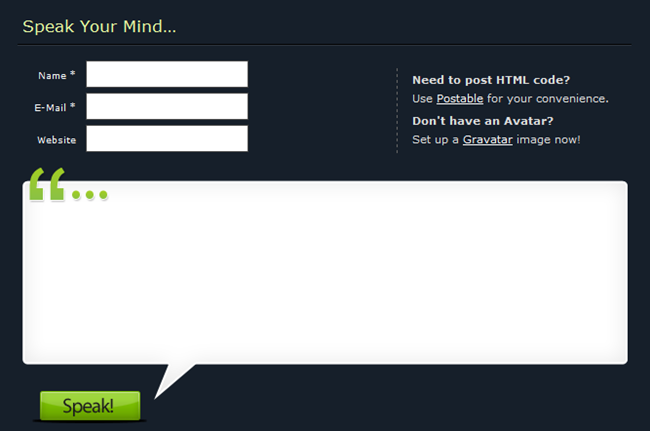 I love it
custom submit button
hovering quote
very polished look

the comment box actually sits *above* the comments – a radical, yet interesting approach
custom icons
really nice custom highlight on hover effect: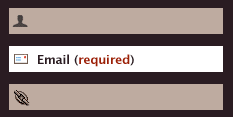 usability and UX at their best

grungy, sloppy – looks great!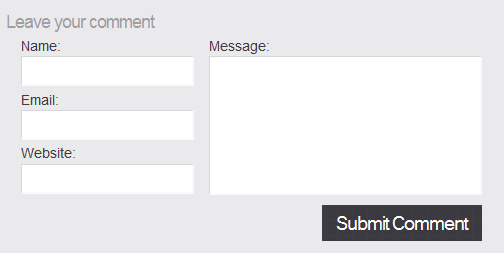 clean
side by side
symmetrical, exact
I love it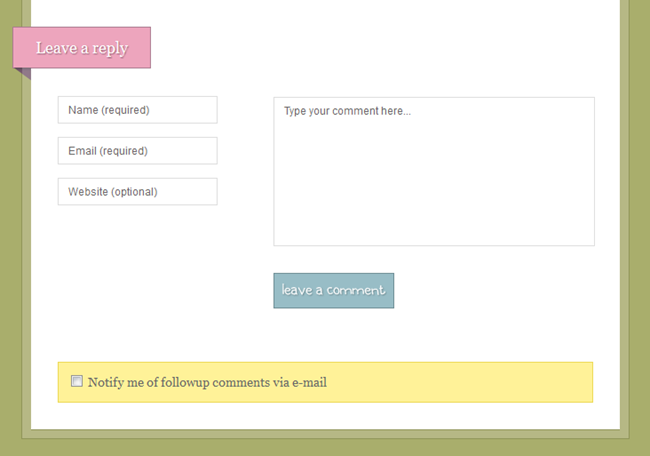 colorful, crayon-like (though it looks better on the site itself – you need to see it in its natural habitat)
internal disappearing labels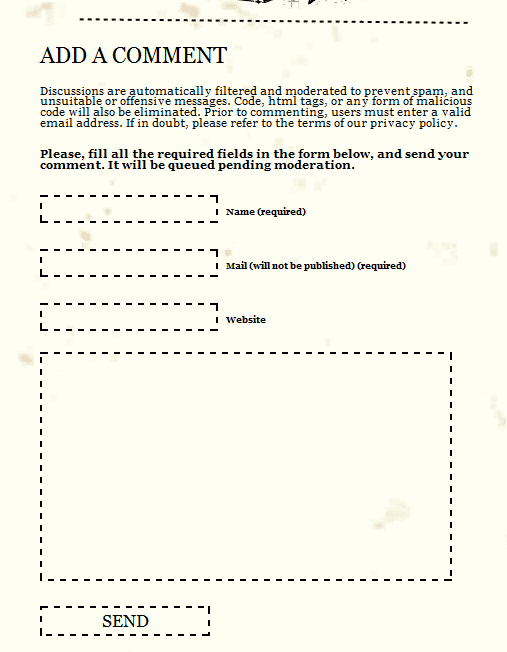 simple, and yet sophisticated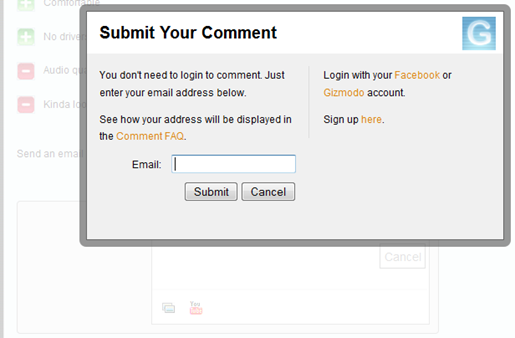 very simple from the UX perspective:

single line box, without the need to login first
expands on focus
no need to login even then, unless you want to – just enter your email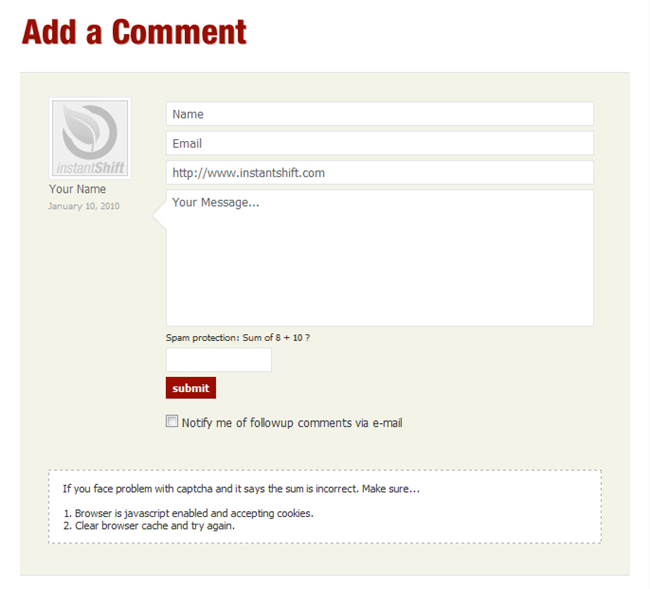 this is one of my favorites
I love, love, love the way the comments look, especially the way the author ones stand out: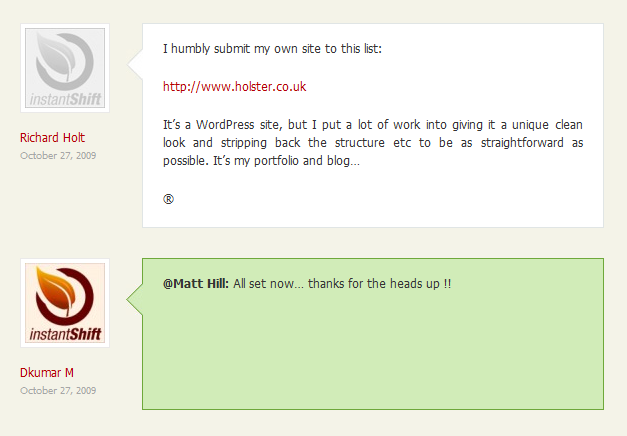 internal disappearing labels
the design itself, while seemingly not too special, mashes with comment list very well. Check it out – I think the curvy lines are very creative: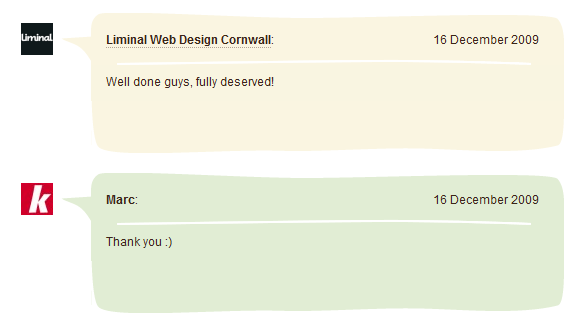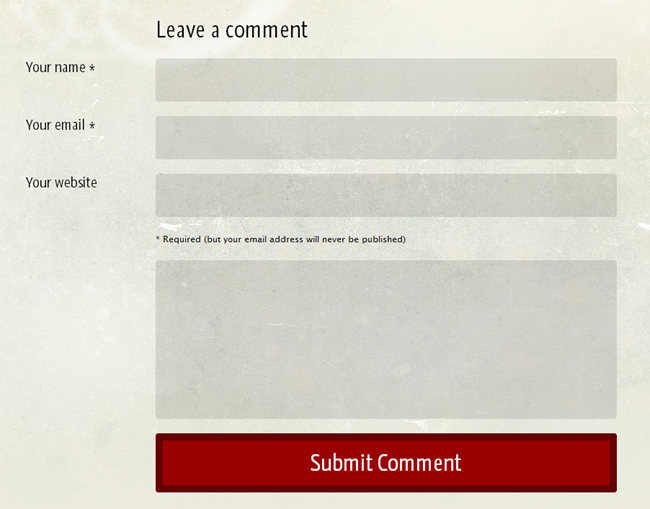 click the image – it's bigger than it looks
if you can't tell (), the elements are MASSIVE, which makes this comment box pretty unique
Conclusion
If you liked this post, you might also enjoy
So, what did you think? The comment box you're looking for is at the bottom of the page.
● ● ●
Artem Russakovskii is a San Francisco programmer and blogger. Follow Artem on Twitter (
@ArtemR
) or
subscribe to the RSS feed
.
In the meantime, if you found this article useful, feel free to buy me a cup of coffee below.