Posted by Artem Russakovskii on March 6th, 2010 in
Tips
Today I have 2 tips for Total Commander users:
how to display hidden local directories and files and
how to display hidden FTP directories and files
Really, Total Commander should just control this setting in one place but, unfortunately, it is not the case.
I usually prefer when my file manager shows me everything I have, so that I can be more in control and see the hidden directories, such as .svn or $Recycle.Bin, and files, such as .bashrc or pagefile.sys.
How To Display Hidden Local Directories And Files
go to Configuration -> Options… -> Display
put a check next to the "Show hidden/system files (for experts only)"

How To Display Hidden FTP Directories And Files
This one is a …
Read the rest of this article »
Posted by Artem Russakovskii on March 1st, 2010 in
Tips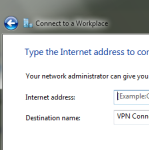 This tip can also be filed in the "post with the longest title that kind of makes sense but needs more explanation" category.
If you use a VPN (Virtual Private Network), this tip is for you.
The Problem
you connect to a VPN to get access to your work/whatever network
your connection is fast but the VPN connection is balls slow
you try to stream a bit of online radio, go to a website, watch a video, or do anything, which is automatically routed through the VPN connection but everything TAKES AGES because the VPN connection is the limiting factor
so not only are you frustrated by hiccupping radio, stuttering video, and a never disappearing progress bar but you're

…

Read the rest of this article »
Posted by Artem Russakovskii on October 28th, 2007 in
Programming
Updated: May 23rd, 2009
Removes all ftprush queue items that don't download to localhost. It is useful to run if you FXP a lot of files back and forth and want to clean up the queues from time to time, but don't want to delete anything that is downloading. Feel free to make a shortcut to this script and run it any time you want.
Note that this script is only compatible with the ANSI FTPRush version. The Unicode version is not supported.
You need to have Activestate Perl installed in order to run this script. http://www.google.com/search?q=activestate+perl+download
Script source is available from SVN here.