Posted by Artem Russakovskii on November 18th, 2009 in
Android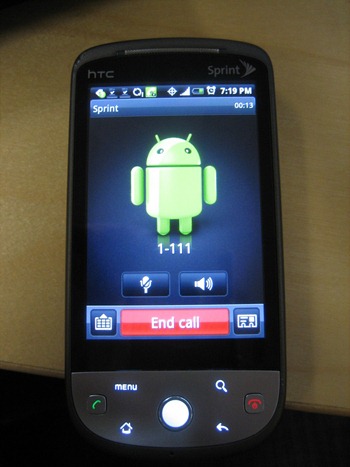 Only 2 days after I posted the list of problems with my HTC Hero (The Not So Good, The Bad, And The Ugly: My List Of 20+ Problems With HTC Hero) Sprint and HTC released the first firmware update.
The Update
To update your Hero, go to Settings->About phone->System updates->Firmware update.
The update took about 10 minutes to install, weighed 3.7MB or so, and rebooted the phone twice – once to install and once to reboot after the installation, so make sure you don't need to make any important phone calls during that time.
After the update, I immediately noticed the broken application icons (issue #4 on my bug list) fixed. The phone seems is definitely quite a bit snappier, which I hope points in the direction of some fixes in the battery and lag department (issues #1 and #2).
Since there don't seem to be any official details out from HTC or Sprint at the moment (I found out about the update by doing a random Google search and arriving at a random Facebook post), I cannot see the final bug fix and feature list, but here's what I managed to gather so far from my own observations and online [1] [2]:
What's New
Fixes
broken app icons are fixed. This issue was also known as the boot caching issue
broken app names are somewhat fixed. Some of mine weren't but I reinstalled them and so far they display correctly
the major battery draining 100% awake SMS and letting the phone go to sleep after boot bugs are fixed. I've gone ahead and uninstalled HandcentSMS to see if my visual voicemail notifications will come back (they seemed to have gone away after I switched to Handcent)
not receiving SMS when low on space is fixed
memory leak related to bluetooth is fixed
dialer app using too much CPU bug is fixed
daylight savings time calendar issue is fixed
the stereo headphone issue is fixed
Improvements
the phone is a lot snappier – the lag is pretty much gone in a lot of cases but it's still there in others, especially in the Phone app and the browser. For example, I killed the browser and started it again – it took 20 seconds before google.com was loaded, 10 of which I spent staring at an almost completely white screen
I have a feeling it is due to fixing something with the cleaning up of the old uninstalled apps. My theory is that the Hero didn't uninstall the apps properly, perhaps leaving their cache behind, thus slowing down more and more as I tried out more and more apps
Update: I just charged the battery and I think the battery charged a lot faster than before, which is a really good sign
loading of app lists seems to be a lot faster. By that I mean any time the phone shows a list of installed applications, it seems to show up a lot faster than before (Add shortcut, Manage, etc)
camera quality is improved
New Features
app search – if you push the search button from anywhere inside the Market app, it now pops up the app search dialog rather than the regular google search
there are 2 new icons during a phone call: mute and speaker. I took a photo of this, which you can see below
the green Android dude looks more 3D-ish now – a minor but nice UI change
Problems
a lot of users are reporting that some of their apps, including paid ones, have gone missing
the haptic feedback (vibrate on press) in the Phone app is now permanently on, even though I turned it off in the keyboard settings. I am fairly sure it's either a bug or a new "feature" that we didn't want, as it doesn't respect phone-wide settings
Miscellaneous Notes
the update did not fix the all-day event 1 day too early notification problem
I did not find an update for the voicemail app that some people mentioned (mine is at v5.0.0.32)
the "linked program is no longer installed on your phone" problem that I'm having with my Twidroid shortcut every time I update it is still there (it goes away after phone reboot)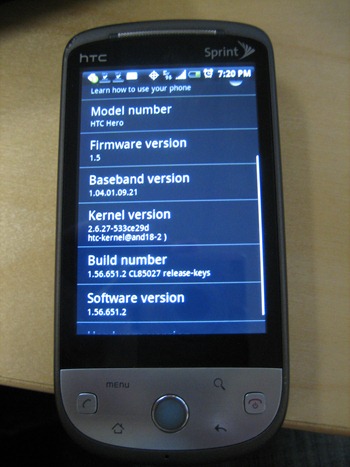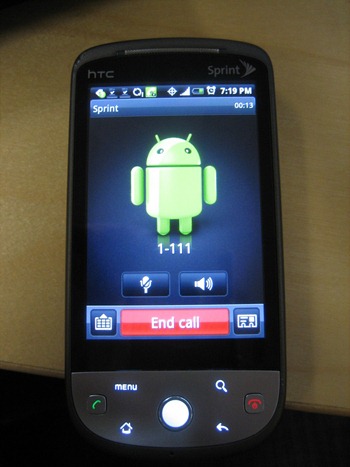 Overall, I'm very happy that Sprint and HTC are coming through. I was really afraid they would wait for the next big thing (Android "Eclair" 2.0) instead of releasing the necessary bug fixes but, thankfully, that didn't happen.
What else did you notice with the new upgrade that I missed? Is anything broken?
● ● ●
Artem Russakovskii is a San Francisco programmer and blogger. Follow Artem on Twitter (
@ArtemR
) or
subscribe to the RSS feed
.
In the meantime, if you found this article useful, feel free to buy me a cup of coffee below.